Get the Lens Best Suited For Your Optical Needs
Houston Eye Associates offers a variety of designer brand frames for your individualized lenses. Our optometrists are especially trained to assist you in choosing the best fitting frame that is both flattering and fits your lifestyle. We can help you make the right choice on the basis of your unique face shape, skin tone, and prescription. Offering a quality line of frames for both adults and children, we can assure you that Houston Eye Associates will provide top quality service along with supreme lens options.
Our opticians will help you determine which type of lens will best suit your optical needs. There are various lens options to choose from depending on your visual needs. Available lens options include single vision, bi-focal, tri-focal, and progressive. See below to view which lens best suits your vision needs.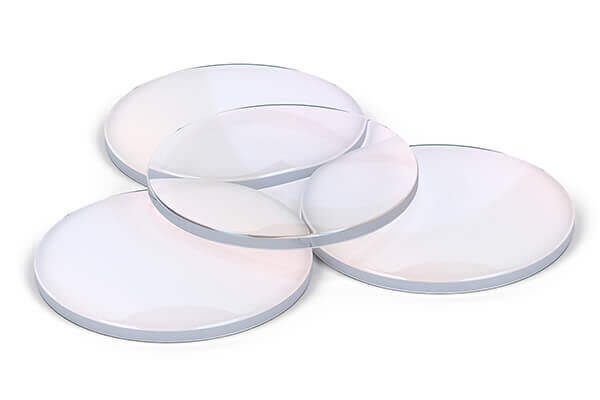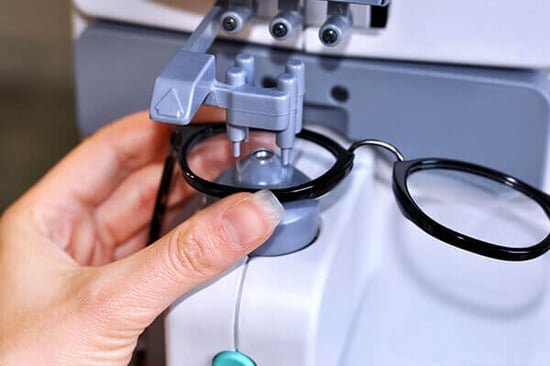 Lens Types
Single Vision: Single vision lenses have the same optical focal point or correction over the entire area of the lens.
Bi-Focal: Bifocal lenses usually have a straight visible line that defines separation of the lens. The top area is for distance vision and the bottom area is reserved for reading. Bi-focal lens serve as a great vision solution for those individuals with presbyopia.
Tri-Focal: The trifocal has three separate areas within the lens. Each area is meant for different focal distances such as, near-sightedness, far-sightedness, and intermediate viewing.
Progressive: Progressive lenses are very similar to tri-focal lenses. However, with progressive lenses, there is a smoother transition within the whole lenses from distance viewing to near vision. The smoother transition eliminates the segmented lines which allows for clear vision at all distances.
Individual® 2
Your eyes. Your style. Your life.
The prescription your doctor writes for you is completely personalized for your eyes.
But most progressive lenses are not: they use the same optics for many prescriptions. Your ZEISS Progressive Individual 2 lenses will be designed precisely for your prescription, and manufactured with legendary ZEISS precision for superior performance. You'll enjoy wide, spacious fields of clear vision – up to 50% larger* than ordinary progressives.. Customized for your prescription, frame and face
As a result, you'll enjoy the following benefits:
Up to 50% larger fields of clear vision than ordinary lenses
Designed to fit the frame you choose, large or small
Designed for the way your lenses are worn, for sharper vision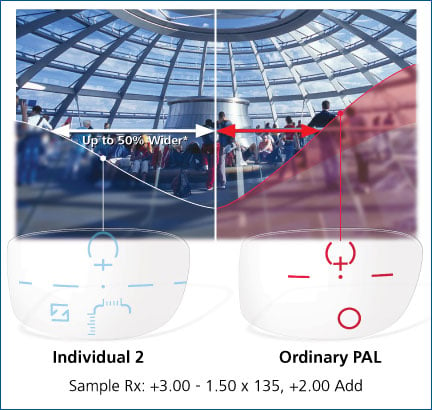 The way you use your eyes is unique to you. You may spend more time than most focusing on one main distance (reading, computer work) or your life may emphasize constant refocusing for dynamic activities (driving, sports, gardening). New technology in ZEISS Progressive Individual® 2 lenses allows your eye care professional to enhance either the near or intermediate and dynamic viewing zones of your lenses to suit your visual lifestyle. You'll benefit from outstanding vision for all distances, with extra vision support where you need it most.
"Unbelievable, incredible clarity! I picked up my eyeglasses this evening and have had virtually no adjustment period with my Zeiss Individual, unlike prior experiences with other lenses. I haven't experienced this level of clarity since having to forego my gas-permeable contact lenses for eyeglasses ten years ago! Thank you." – Arlene
It's Only by ZEISS
Only select practices have been certified to fit this advanced lens. Trust our experience and knowledge to create a Zeiss Individual® 2 lens that is perfect for just one person – you.
Ask us today how innovations like Zeiss Individual 2 lenses and PureCoat by ZEISS will allow you to be a part of the ultimate vision experience.
ZEISS DuraVision Platinum
The moment your lenses survive even the toughest tests.
Tough on reflections. Tough on scratches. Tough on dirt and smudges.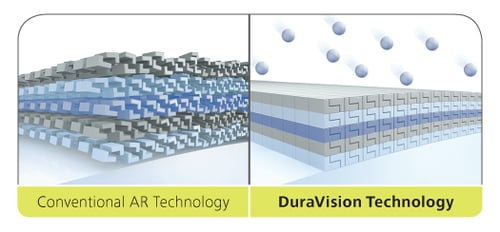 DuraVision Technology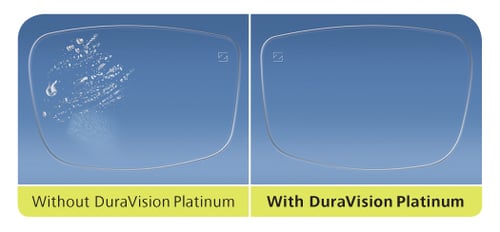 DuraVision Tough on Scratches
Superior CLARITY with Real-World Toughness.

What does superior clarity mean in an eyeglass lens? How about the near elimination of distracting glare as well as scratches and smudges that interfere with your vision? Lenses that are easy to keep clear and clean, and are tough enough to last as long as your prescription?
Introducing ZEISS DuraVision Platinum, the anti-reflective lenses setting a new standard for clarity, cleanability and toughness. Made by the company that invented anti-reflective lenses.
Clarity in an anti-reflective (AR) lens is measured by the amount of light reflected from the lens surface. The fewer the reflections, the greater the clarity. This means your vision is sharper in high-glare conditions such as driving at night or working on your computer, and others can see your eyes more clearly.
ZEISS DuraVision Platinum reduces light reflections by over 20% compared to other anti-reflective lenses¹, giving you maximum clarity, day and night.
For a lens to be clear, it needs to be free of scratches. ZEISS DuraVision Platinum is three times tougher on scratches compared to conventional AR lenses, thanks to an integrated system of densely-packed coating layers on the lens surface. In laboratory testing with a dry cloth, DuraVision Platinum still looked new after 600 wipes while previous generations of AR showed significant scratching.
No matter how careful you are, your lenses will inevitably be exposed to dirt and smudges. That's why ZEISS incorporates advanced technology to keep your lenses cleaner, longer.
The only thing clearer is no lens at all.
ZEISS DuraVision BlueProtect
The moment you can relax knowing your eyes are protected.
Blue-violet light is everywhere.
Damaging blue-violet light can be found everywhere and the more you're exposed to it, the greater your risk of eye damage. Increasingly, health professionals recommend that people of all ages protect their eyes from excessive blue-violet light exposure. ZEISS DuraVision BlueProtect shields your eyes from damaging blue-violet rays, indoors or out.
Blue-violet light:
A health threat hiding in plain sight
Like invisible UV radiation, exposure to blueviolet light can affect your eyes and your health. And the threat is increasing as we are exposed to increasing levels of blue-violet light. The American Macular Degeneration Foundation warns that blue-violet light may contribute to retinal damage and macular degeneration. Viewing digital devices at night can also disrupt the brain's production of melatonin, causing sleep disturbances.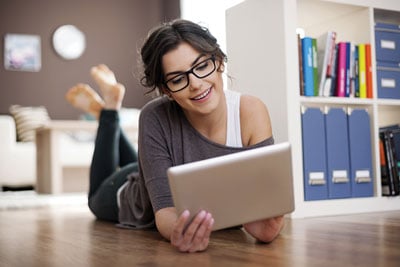 Protects from Blue-Violet Light
Shielding your eyes from damaging rays
ZEISS DuraVision BlueProtect is specially designed for people who spend a good deal of time in front of their computer, television or tablet, or are frequently exposed to LED and CFL lighting. The advanced light-filtering system of BlueProtect blocks a significant amount of the most harmful blue-violet light. ZEISS DuraVision BlueProtect gives your eyes enhanced protection from potential blue-violet light damage.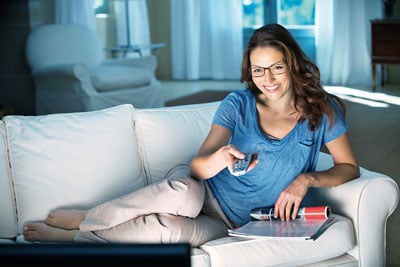 Designed for people who spend a good deal of time in front of their computer

Superior clarity and scratch resistance
ZEISS DuraVision BlueProtect incorporates leadingedge anti-reflective and scratch-resistance technology ensuring both your eyes and eyeglasses are protected. Surface reflections from lenses can distract you and interfere with your vision, particularly in lowlight conditions like night driving. Anti-reflective lenses reduce reflections, resulting in clearer vision.
Superior scratch-resistance technology helps protect lenses from developing scratches due to cleaning and normal wear and tear.
Protect yourself and your family – Ask your eye care professional about ZEISS DuraVision BlueProtect today.
Drive Safe by ZEISS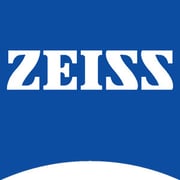 Vision on the road is critical to your safety.
No matter what type of driving you do, seeing clearly can
be challenging for almost any driver. Driving is hazardous
enough without also having to worry about your vision.
Ask yourself:
Is it hard for you to see objects quickly when driving in low light conditions like rain, twilight, or night?
Are you bothered by glare from oncoming headlights?
Do your current glasses give you problems when scanning the road, mirrors, and dashboard?
Don't compromise your safety with eyeglasses that don't provide the best possible vision on the road. ZEISS, the leader in precision optics for over 165 years, has a new solution for you – ZEISS DriveSafe.
ZEISS DriveSafe – the only pair you'll need to make driving feel safer and to provide excellent all-day vision.
ZEISS DriveSafe: see clearer, feel safer.
For better vision while driving and all day, ask your Eye Care Professional about ZEISS DriveSafe today.
Benefits of ZEISS DriveSafe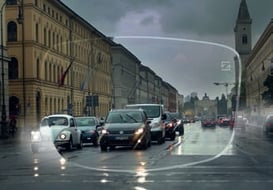 Better vision in low light conditions.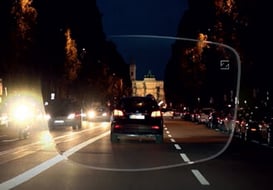 Reduced glare from oncoming car headlights and street lights.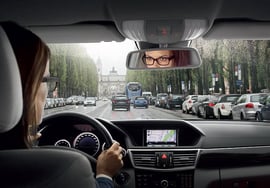 Clearer viewing of the dashboard, rear-view and side mirrors, and the road ahead.